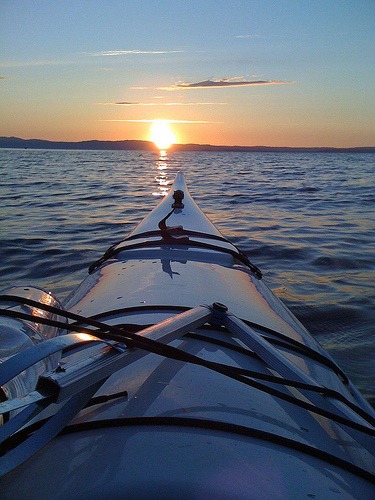 I took a nice little evening trip in my kayak yesterday (my fourth trip ever, I'm a total newbie). Launched from the nearest beach, just a kilometer from my house, and headed straight out to sea, towards the sun as it was setting, then turning around as it went down, catching the breeze on my back. Perhaps I should have just kept going? How far is it to Island?
I've decided to start bringing my trusty garbage picker with me on my trips. On my last outing, I saw lots of little pieces of plastic on the shoreline, just out of reach. It is a bit of a hassle getting in and out of the kayak, so a mechanical grip like the one in the picture above is a must.
Oh, and I might add that I started beach-combing / beach-cleaning last year, after finding the 46000 art project. 46000 being the number of plastic artifacts floating pr 1 mile of ocean! Isn't that just crazy? What the hell are we doing to our planet?
Happily I didn't find any floating debris on this trip, not even along the shoreline (I found one lonely red plastic cup).
But the situation on the beach where I launched and landed was different. There was plenty of junk, leftovers from a hot and beautiful day: Ice cream wrappers, empties, potatochip packets, etc. I am actually more than a little dissapointed that my neighbours are such litterbugs, I believed them to be better than this. To me, throwing garbage in nature is simply unthinkable, and I really feel that such behaviour is a sign of the fall of man. If you ever see me litter, then please shoot me!