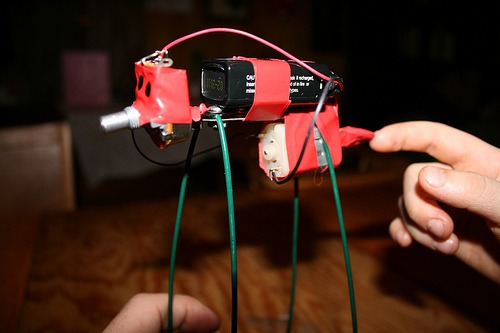 See it on Flickr
I made this cute little vibrobot today, with some spare parts I had lying around. Got inspired by an old Makezine article, and decided to smack it together.
It turned out pretty cool actually, it hums around like a happy little bug. I gave it a cute nose with a potentiometer, so when you twist the nose you regulate the speed of the motor. I finished with adding more cuteness in the form of magic marker eyes and black spots on the back.
Here is a quick video:
My daugter thought it was awsome and figured out the potentiometer bit all by her self. My sons couldn't care less. Guess who will inherit my tools when I die! :)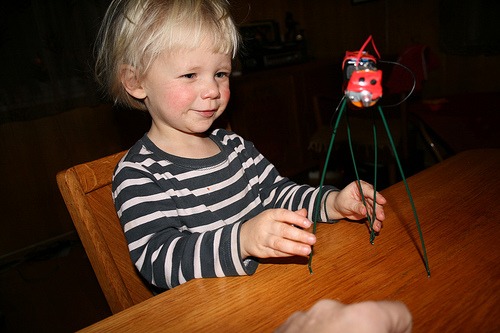 I think I have to modify the vibro bit a little to get more action out of it. I just taped a small nut to the shaft of the motor, and it doesn't really vibrate as much as I hoped for. The bigger the nut the better the action! Wisdom!
The feet are a piece of fence wire I found lying around, and I used some pieces from a mechano set as a frame to hold stuff.
See more images of it on Flickr.
Parts used:
Wire for the feet
Wire cutters
9v battery and connector thingy
Small motor from some broken toy, had it forever.
Red electrical tape
Soldering iron and solder (not really needed, you could just use tape … or gum).
Mechano pieces. I fastened the feet by pressing the wire between two metal mechano pieces with four screws.
(Ps: There is a clear danger of burning out the motor when using a 9 volt battery)