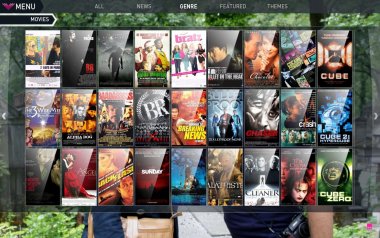 Voddler is an eagerly awaited video-on-demand service with a business model quite like the popular Spotify. Here are some screenshots and gathered facts to tie you over until the real thing is released.
Update 29. october 2009 : Bad news for Norwegians. I have had word from Voddler directly that the scheduled (or rather, rumoured) release of Voddler in Norway has been pushed from "this fall" until next year. Our Danish neightbours and probably all the other Nordic countries will get Voddler in 1-2 weeks. I am envious!
Voddler is a new software based video-on-demand service set to launch in Sweden and probably all the nordic countries this autumn. Dubbed the Spotify for film, the service is rumoured to have three economic models: You can eighter watch the adbased version (for free?), pay a monthly subscription with an all you can watch menu, or you can pay per view.
Can I hear a "HALLELUJA"? This is just what the doctor ordered to combat illegal filesharing AND perhaps even provide a better service than can be had for free on Pirate Bay etc.
Video
Screenshots
What do we know about Voddler?

Tech: Might be based on OpenTv (thanks to Linked in for that nugget)
Quality: Whatever the film companies and distributors want to give, but HD and DVD quality is the norm.
TV content: Yes! According to Bredbandsbolaget Voddler will include TV series. None of the articles I've read has mentioned this though, and I haven't found details about which series would be available.
Availability of films: Unknown. But both new and old, and both Hollywood and independent content.
Is it a platform to be used for budding film-makers for indy distribution: Unknown, but hopefully it will be easier to get on than Spotify. The freshness of the films will also vary depending on what subscription you choose, but this is also dependent on how the content owner want their films to be presented. The best content (new releases) might only be available for montly subscribers, as an example.
Social functions: Unknown, but Spotify has failed there. Perhaps Voddler will do it better.
Api: Unknown
Play your own content in the same interface: Like Boxee or Joost? Unknown, but not likely.
Interface: The grapewine says the interface at least is based on XBMC. But see the screenshots above.
People: Mattias Hjelmstedt (founder). Georgi Ganev, Bredbandsbolaget. Zoran Slavic, formerly in Sony Pictures, ip-tech-expert Björn Isaksson, "partyfixer" Marcus Starberger. See also: Linkedin search for Voddler
Video format: HD720p streaming. Not sure which format/wrapper.
Audio format: AC3 5.1
Audio offset: Yes! A must if you want to connect you computer to your tv. Audio and images is often not in sync when using VGA and audio jack (in my experience)
Hardware accelleration: Probably, looks like Voddler likes Nvidia.
Windows: Yes
Mac: Not yet, but when it is officially released
Linux: Yep (wow!)
Personal profiles: Looks like every member of a household can have their own unique profile
Parental control: Unknown
Development: 100 months 13 million USD
Commercials: Unknown how many or if they will be shown while you are watching. But probably very often AND during the movie to make people buy a subscriptions.
Price for the monthly subscription: Unknown
Security/privacy: Probably not that good. By an error the root password to the webserver got shown on an error page on voddler.com. If you google around you can find and download the entire fire structure of their webserver as it looked before the whole was plugged, as well as in depth information of Voddlers databases (pertaining to the webside of things at least). The hashed and salted passwords to existing users where also extracted (rumors said about 150 passwords?), and so where about 15000 emails belonging to the people who had signed up for the beta. Not cool.
Wishes:
* Personally I would have preffered to buy a day pass or a weekend pass, and hopefully Voddler will take a lesson from Spotify before choosing their models.
* To pay more for instant viewing, and less for slower (more robust p2p bittorrent based) downloads. Would make sense since it saves Voddler and all ISPs on the costs for bandwidth. Streaming is fine if you watch a movie alone, but if you are on a date then buffering is a real turnoff (literally) and embarrassing. And I you, like me, use movies to babysit your kids (blush) then you want to be sure that there is no buffering.
Links
– More screenshots: http://filesharingtalk.com/vb3/f-software-23/t-voddlercom-new-spotify-moviestv-series-358009
[deliciousthumbs tag="voddler" count="20″]