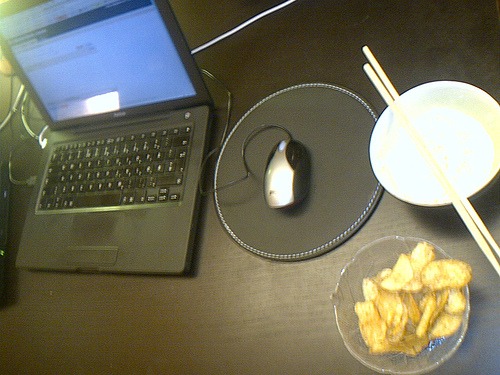 Ok, I am officially ashamed. What you see here is potatochips, dip, chopsticks and a Macbook. So what's the story here? Well, when I first got my Mac I must have washed my hands every single time I touched something else that might have made my fingers greasy, because I was afraid my Mac would get smudged. Now, if it wasn't for the fact that I am not the only one being anal about this, I would never have admitted something as silly as this, but I still feel like a turd, you know, in a global perspective, starving children as a starc opposite.
So, have you understood the role of the chopsticks? I'll spell it out for you: I use the chopsticks to pick up the potato chips and dip them in the Holiday Mix, so I can combine eating junkfood with keeping my Mac clean!
I'm going to hell for this!

So that is my theory: Having a Mac, a black Ipod, or an Iphone for that matter, will cause you to wash your hands like a madman.
Update 02.02.2008: