Oi, dette har jeg gledet meg veldig til! Fikk tips på Twitter i dag om at de skulle gå an å leie film via iTunes, og leita rundt i menyene for å finne frem, uten å lykkes. Nedtur! Men så var det en liten fugl som sa at man må søke etter konkrete filmer for å finne dem! Og se hva jeg fant? Masse herlig 80- og 90-tallsfilmer, som Dødelig våpen, Die Hard og Predator, og bare 29 kroner for å leie! Sweet!
Kun 704 filmer
Men utvalget i norske iTunes er ganske dårlig. Vi snakker hovedsaklig mainstream blockbusters, samt endel rett-på-dvd-utgivelser som kunne crackrøykende amerikanere kan sette pris på. Det er lite å sette tennene i for folk som virkelig liker å grave seg ned i filmhistorien. Du får det samme utvalget som du får i de fleste andre kommersielle videoløsninger på nettet, og knapt det. Er du glad i å se film så har du mest sannsynlig sett det meste her allerede.
2010-tallet: 89 filmer
2000-talle:t 363 filmer
1990-tallet: 155 filmer
1980-tallet: 42 filmer
1970-tallet: 20 filmer
1960-tallet: 24 filmer
1950-tallet: 5 filmer
1940-tallet: 4 filmer
1930-tallet: 2 filmer
Et søk etter min favorittskuespillerinne, Marisa Tomei (voff voff). Litt skuffende at det bare er tre filmer, og at The Wrestler mangler.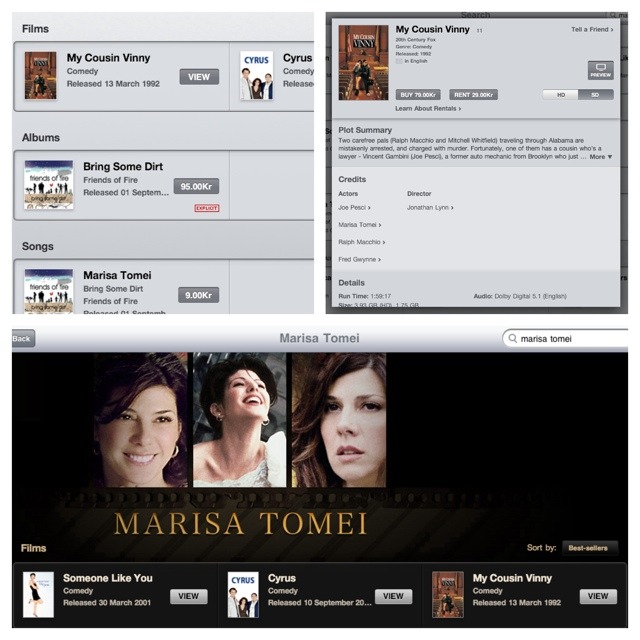 Tester et søk etter The Wire, desverre ingen treff. Går ut fra at det kun er filmer som er tilgjengelig, ikke tv-serier. Fint at man kan klikke på navnene til skuespillerne og få opp filmene de spiller i.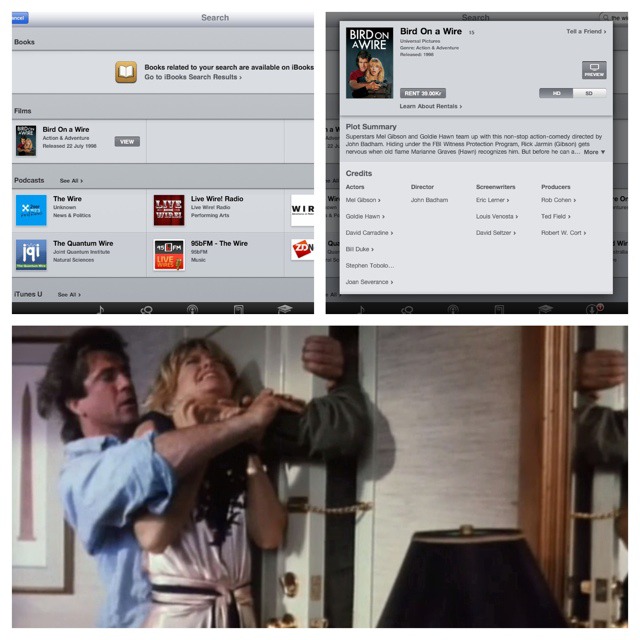 Action-bonanza: