Update, 8th of february 2009: The Divester server seem to have lost some of it's images, so I'm looking around for alternativer sources…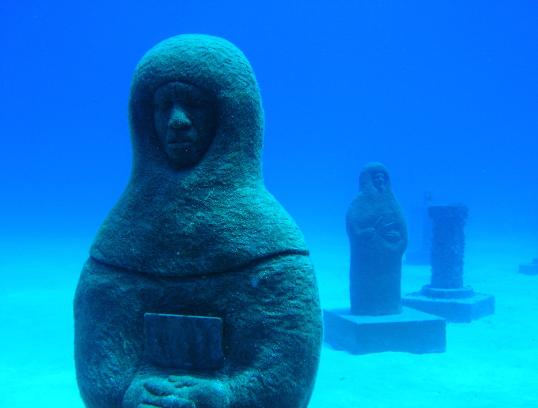 Plato spoke of the seaport of Atlantis that the Gods had destroyed when its inhabitants had become corrupt and greedy. Ancient mythology has met with modern day fantasy however, in a visionary project by Cayman artist Foots in the waters off Cayman Brac.
Every statue he sculpts is of a real person he know.
«-My subjects… Friends, family and people that I have encountered throughout my life. »
The project has also enabled some environmental improvements:
«The
stone with which I sculpt is a very porous stone, enabling algae to grow and providing substanance for
our sea-life. We have «literally» seen the sea-life population in and around Atlantis Cayman Brac explode!»
In addition to being a magnet on divers from all over the world, the 16 acre underwater artwork is also a memorials / cemetary, where people can pay $2000 to have their ashes placed.
Sign me up!
More: http://www.atlantiscaymanbrac.com/gallery.html
Interview with the artist:

Sinking the Lost City of Atlantis, Part 1
[embed:http://www.youtube.com/v/hjLayoQCnm0]
Sinking the Lost City of Atlantis, Part 2
[embed:http://www.youtube.com/v/0bULUNIxfs4]
Sinking the Lost City of Atlantis, part 3
[embed:http://www.youtube.com/v/-3rSB5STXxg]
Sinking the Lost City of Atlantis, part 4
[embed:http://www.youtube.com/v/P9vd8It_Ke8]