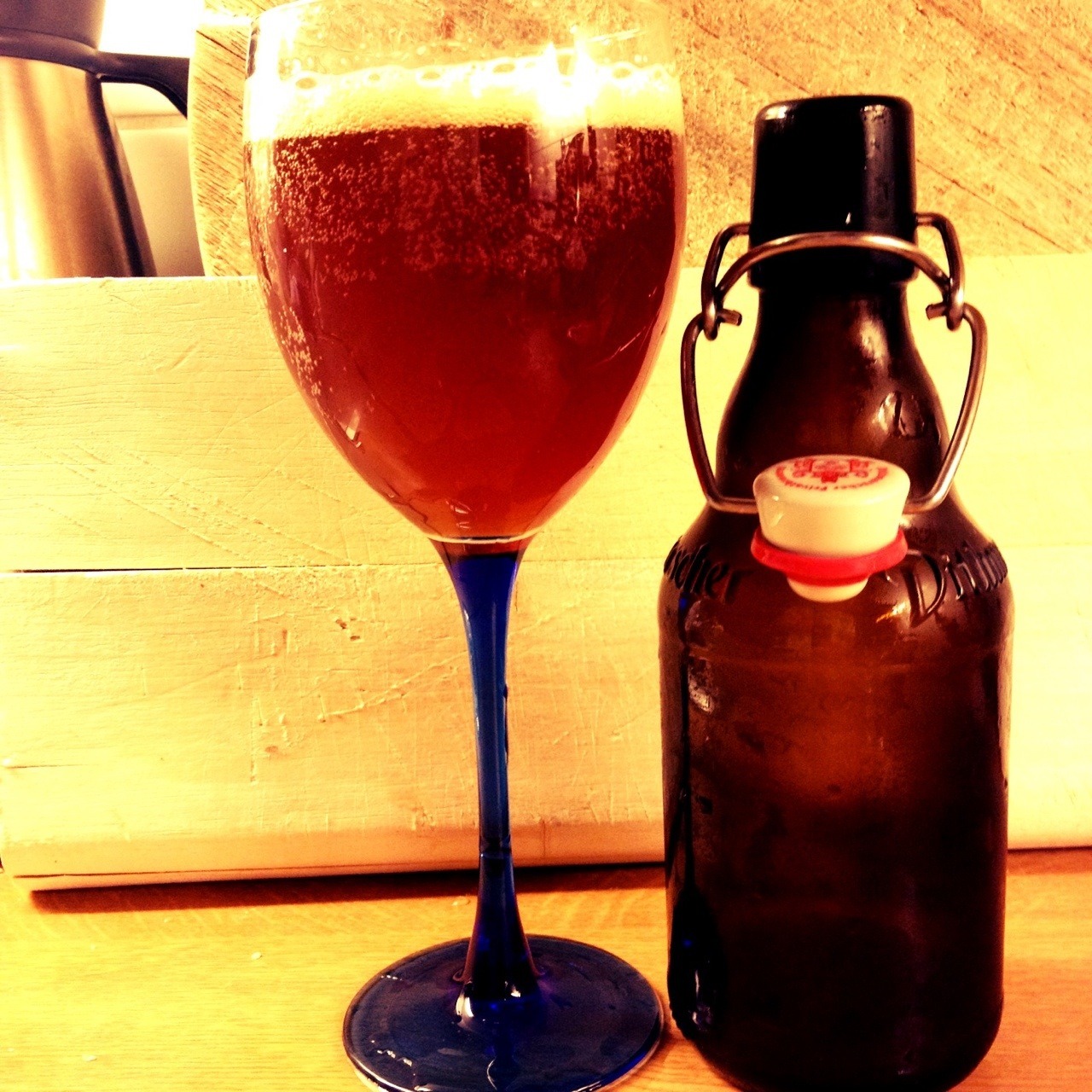 Den ble ikke så sterk som jeg hadde planlagt, men veldig tasty!


50g Rosiner @ 15 min
Sitronskall fra 1 sitron @15min
2 røde chili, hakkede @15 min
(alt i humlepose)
Vann: Start med 10 liter. Sparge med 2-3? Kok ned til 9 liter (90 min).
http://byo.com/stories/article/indices/58-yeast/1696-yeast-strains-for-belgian-strong-ales
Dixie Cup Boardwalk Belgian Quadrupel
by Jeff Reilly and Scott DeWalt
(5 gallons/19 L, all grain)
OG = 1.090 FG = 1.020
IBU = 30 SRM = 15–17 ABV = 9.3%
This was the beer that was given to each of the attendees of this year's Houston Foam Ranger's Dixie Cup Homebrew Competition. The theme was Fredopoly, based on the board game Monopoly and in honor of our annual speaker and homebrew pioneer, Fred Eckhardt.
Ingredients
12.5 lbs. (5.7 kg) Belgian Pilsner malt (1.4-1.8 °L)
0.25 lbs. (0.1 kg) aromatic malt (17–21 °L)
0.5 lbs. (0.25 kg) dark Munich malt (8–10 °L)
0.75 lbs. (0.33 kg) CaraMunich® malt (80–100 °L)
0.25 lbs. (0.1 kg) special B malt (140–155 °L)
1.0 oz. (28 g) chocolate malt (340 °L)
1.0 lb. (0.45 kg) Belgian dark candi sugar
0.5 lbs. (0.25 kg) turbinado sugar
0.5 g coarsely crushed grains of paradise
0.25 oz. (7 g) coarsely crushed Indian coriander
0.25 lbs. (0.1 kg) chopped raisins
4.5 AAU German Northern Brewer hops (60 min) (0.5 oz./14 g of 9.0% alpha acids)
3.9 AAU German Perle hops (60 min) (0.5 oz./14 g of 7.8% alpha acids)
Wyeast 1214 (Belgian Ale) or White Labs WLP500 (Trappist Ale) yeast
Step by Step
Mash grains at 152 °F (67 °C) for 90 minutes. Boil wort for 90 minutes adding hops per scheduled times and adding spices and sugars at end of boil. Cool wort to room temperature and drain or rack the wort off of the trub. Aerate the cool wort and oxygenate. Ferment at 72 °F (22 °C) for 21 days in the primary and 1 week in the secondary.
—
Notater:
1330 10 liter vann på plata
2.5 liter i liten kasserolle til temperaturheving
1417 Mash-in @78: (BIAB) Måtte øse av 1 liter vann for å få plass til all malten. Svært tykk mesk. Tok kasserollen av plata og pakket den inn i ullpledd.
1454 Temp nede i 60-66C. Tilsatte ca 0.5 liter varmt vann, økte temp til 67-68C.
1510 Kandissukker på kok.
1600 Sparge ferdig med 2 liter vann. Gå litt over 8 liter vørter.
SG: 1070@25C
1616 Sparger med 2.5 liter vann.
1618 Vørter satt til kok. Tilsatte sparget vørter, ga ca 10.5 liter
1734 15 min: Tilsatte 1 hakket chilli, 50g rosiner, 6 g sitron/klementin-skall, samt kandis og brunsukker.
1750 Vørter satt til kjøling i kaldt vann med fire flasker frosset vann og et par kjøleelement.