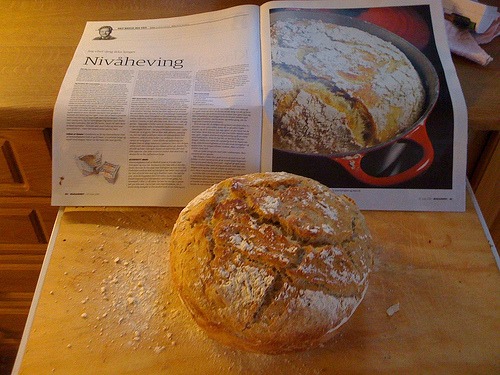 My first successful bread!, originally uploaded by mskogly.
I don't usually write about cooking on this site but I have to make an exception today, after a very successful attempt at making bread.
I've tried a few times before and I've always ended up with an inedible bricks more suited for killing mutants and bears, but I found a recipe today that didn't involve kneading at all, and which uses a cast iron pot to get that perfect mix between juicy insides and a nice crunchy crust. And it turned out absolutely fantastic! I'm so excited to find out if it tastes as good as i looks!
Update: It tastes fantastic too! It's really heavy, but easy to cut, has a perfect crust, and is still very moist and lovely. Yum! It has pockets of air inside like the pros get. I'm so pleased with myself. I actually had to send an email to Andreas Viestad to thank him :)
Recipe in Norwegian:
http://www.dagbladet.no/2010/03/21/magasinet/det_beste_jeg_vet/oppskrift/andreas_viestad/mat/10876358
There is an english recipe available from the New York Times.
http://www.nytimes.com/2006/11/08/dining/08mini.html